Sunday Yoga on the Farm Porch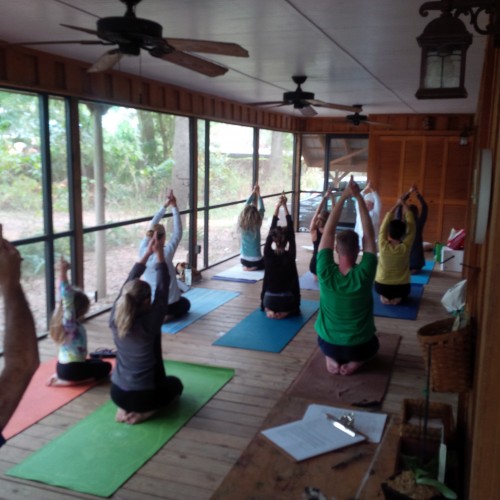 Discover and expand your yoga practice on Sundays from 10:30 am to 11:30/11:45 am.
Yoga teaches the art of relaxation and self-healing. It incorporates breath, postures, chanting, and meditation to open our hearts & minds, build strength, reconnect, and create flexibility.  The Sweetwater Yoga Teachers Collective is a group of volunteer yoga teachers. Our current class offerings are centered around Hatha flow and Yin Yoga. Classes are mixed level, suitable for beginners as well as seasoned practitioners.
Classes are held on Sundays on the Farmhouse porch, a screened enclosure, surrounded by native trees, permaculture food trails, crooning roosters and curious farm cats.
Classes are offered free of charge with donations being greatly appreciated. 100%  of your contribution supports Sweetwater Organic Community Farm. Participants are encouraged to bring their own mats.  Registration is not required. Space is on a first come, first serve basis. We look forward to seeing you at Yoga on the Farm Porch!  Please contact us with any questions.
2021 Schedule
All classes take place on Sundays from 10:30am to 11:30/11:45am
September
9/5 – Chad
9/12 – Emily
9/19 – Stacey
9/26 – "Guest teacher" – YTT certified
---
October
10/03 – Emily
10/10 – Emily
10/17 – Chad
10/24 – Liv
10/31 – Liv
---
November
11/07 – Chad
11/14 – Emily
11/21 – Stacey
11/28 – Liv
---
December
12/05 – Chad
12/12 – Emily
12/19 – Liv
12/26 – Stacey