CSA Pick-Up Info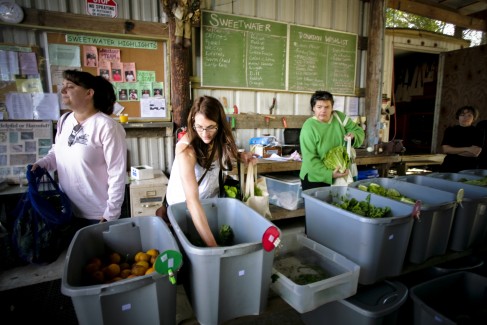 Pick-up Times and Locations
For your convenience, we offer two pick-up days at our Tampa farm, and three off-site pick-up locations:
Thursdays 12-6pm
Sundays 12-4pm (during our Sunday Market)
Members must choose a pick-up day and a location (Farm, USF, Buddy Brew Coffee, or Green Bench Brewery) with the intention of sticking with that schedule for the entire Season.
Staying on schedule is important in a CSA model
Unlike a store or market, your organic veggies are harvested fresh each pick-up day which means we need to know precisely how many bunches of carrots or how many heads of lettuce to harvest so that each Member gets "their" share. If you miss your pick-up day on Thursday and decide to pick up on Sunday instead, that simply doesn't work! (And here's why… we've already harvested for you on Thursday. If you didn't pick it up, it was donated to a local organization. If you show up on Sunday instead, you are now taking a share that actually belongs to someone else! If everyone does this once or twice during a Season, you can imagine how our sustainable model quickly becomes unsustainable!) So the more consistent you are, the better we can anticipate how much to harvest to maximize your share, and the better the experience is for all Members.
Offsite Pick-Ups*
We are happy to be able to offer more locations where community members can pick-up freshly harvested, organic Tampa Bay produce! In order to be able to do so we need a little help with the cost. The Offsite Surcharge helps us offset transportation costs and staffing the pick-up. A one time $30 surcharge is applicable to all Half Memberships and $60 for all Full Memberships that pick-up outside of the Farm (USF, Buddy Brew Coffee, or Green Bench Brewery in St. Petersburg).
What if I am unable to pick-up? Can I reschedule?
If you have an unavoidable conflict on a particular week, first see if a family member, friend or neighbor would be willing to pick up for you. This helps you, helps us, and gives someone new the opportunity to see the farm and maybe try some of your veggies! Or if you contact us at least 48 hours in advance of your scheduled pick-up we can move your pick-up day.  We are not able to change any pick-ups without at least 48 hours advance notice.
You can also schedule vacation holds and reschedule pickups yourself at least 7 days in advance, by accessing your membership here.
Note: We are not able to "make up" missed pick-ups. We harvest veggies for your share whether you are there to pick them up, or not. Any shares that are not picked up by the end of the pick-up time will be donated unless prior arrangements have been made.
Can I pick up at different locations each time?
No, we will have a list of Members that are picking up at USF, a list of members picking up at Buddy Brew Coffee, a list of Members picking up at The Body Electric, and a list of Members picking up at the Farm. We will only be harvesting enough veggies for each particular pick-up.
Full Membership "Share" Pickups
If you purchased a Full Membership, you will pick up fresh produce every week. If you are unable to make a pick-up on your usual day, consider asking a neighbor, friend or family member to pick up for you!
Half Membership "Share" Pickups
If you have a Half Membership, your pickups will be every other week as follows:
Week A: Last Names A-K
Week B: Last Names L-Z
Each pick-up will be labeled 'Week A' or 'Week B' in our pick-up calendar. If the last name of the Primary Member begins with A-K, you will be assigned to Week A. If the last name begins with L-Z, you will be assigned to Week B. However, if you look at the schedule and schedule works better than another, please email us and we will switch you to the schedule you want. Once you are assigned Week A or B, you need to stick with that schedule for the season.
Pick-up Logistics at the Farm
When you come for your pick-ups at the Farm…
1. Sign-in: Please give the primary member's last name to the person at the CSA table
2. Bags: Use your own bags from home, buy a reusable bag from us, or grab a plastic bag from our recycled stash. (If you have extra plastic grocery bags you can contribute to the community stash in the barn for the next person.)
3. Veggies Bins: The CSA chalkboards hanging in the barn will tell you how much of each item to pick up from each bin. (Example: 1 bunch carrots, 3 pounds potatoes, 1 head green leaf lettuce, etc.) Take only from the top. No picking through the bins, as this will damage the produce quality for everyone else. Please be absolutely sure to take only the quantity indicated on the chalkboard so that you don't end up with another member's tomato, carrots, or eggplant. (What a bummer for them.)
4. Swap Bin: Don't need some of the items in your share? Leave it in the Swap Bin on the front table. In exchange, you can take something from the Swap Bin that another member didn't need.
5. Compost: At the back of the barn, we'll keep an empty bin for compostable scraps. Pre-strip the produce you've just picked up, or bring your compostable veggie scraps from home (no rubber bands, etc.). Our compost pile will thank you!
Pick-up Logistics at Other Pick-Up Locations
Come to your Pick-Up location on your designated day during pick-up hours to retrieve your share. Park in customer parking areas.
1. Sign-in: Please give the primary member's last name to the person at the CSA table.
2. Pick up your freshly harvested Sweetwater Veggies!
3. Please Note: If you are not able to make your pick-up during the designated pick-up hours, your share will be taken back to the Farm and donated. (Shares can not be left at the pick-up location or picked up at the Farm at a later time.)