Social Permaculture Design Course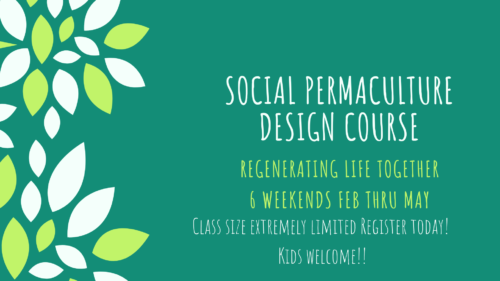 Students will complete the course with a basic understanding of permaculture ethics and principles, including sample strategies and techniques for realizing them in design. Additional learning goals include reading landscapes and interpreting elements and their relationships to each other, applying permaculture principles to land and community development, and adopting methods and tools for using these practices in all aspects of their lives. There is a Free Intro to Permaculture Class Friday February 21st at 5pm open to the public.
Dates of Course
Feb 22 – 23, 2020 Weekend 1
Mar 14 – 15, 2020 Weekend 2
Mar 28 – 29, 2020 Weekend 3
April 18 – 19, 2020 Weekend 4
April 25 – 26, 2020 Weekend 5
May 16 – 17, 2020 Weekend 6
Cristy Abbott will be leading the course.
Cristy did her PDC in Gainesville in 2009. She has a decade of experience practicing Social Permaculture in St Petersburg. CoFounder of the St Peace House and the St Pete EcoVillage, creating community involvement, encouragement and community garden building.
There will be guest speakers, field trips, as well as a culminating design project.
$810 for adult 18 years or over
$520 for teens 17 – 13 years old
$250 for children 9 – 12 with parents, second child in family $150
other discounts and scholarships available.
Click here to register:  https://www.eventbrite.com/e/social-permaculture-design-course-tickets-90625111147